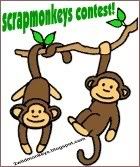 I have tried. I want to be one. I really do. I love the results and the memories. I love watching other people do it. I want to be just as creative as they are. I think I sometimes can't decide what layouts to use. I don't want to spend tons of money on paper and glue. I really love taking photos. I love pretty papers.
Those are my thoughts on scrapbooking. I love it, I just don't want to spend money on it. I have several books, some started, some empty, another one completed (thanks to my generous friend who actually took all my pictures and spent her time and money making me one) I love you friend!
Why am I mentioning all of this? Well
Three Wild Monkeys
is having a
Scrapmonkeys
contest. She will be giving away tons of fabulous scrapbooking materials. I think this is the boost I actually need. I have books. I have pictures. I just don't have the stuff to make the pages lovely. I am going to enter this giveaway to get me started. You can visit
Three Wild Monkeys
to find out how you can win. But hurry the contest ends September 1.
*If you are my wonderful friend who I just gave my blog url to and are checking it out for the first time. "HI, Go enter so I can thank you for making me a wonderful scrapbook of your daughter and me"