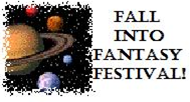 A Peek At My Bookshelf
will be starting a new themed book month. Make sure you stop by beginning Nov 1 to see what it's all about.
Fantasy is a rather new reading genre for me. I've only read a bit of Fantasy. Some I like, some I don't like.