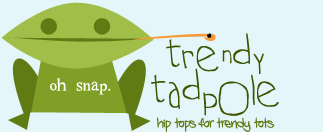 I have recently discovered a great new place to get some
cool baby clothes
. It's
Trendy Tadpole
. They sell cute, witty and stylish shirts for babies and kids. The shirts are made right here in the U.S.A. That is a major plus in my book. The website is very easy to navigate and offers great pictures and descriptions of the shirts.
This shirt is my favorite. It's called
Cherry Blossom
.
Most of the shirts run about $19.95. A very affordable price. Which is great because you can order more than one, such as this one, which reminds me of all those 80's movies that I love.
I would also consider buying the Elvis shirt because my 3 year old niece loves to listen to Elvis songs. You should here her sing Blue Hawaii.
Trendy Tadpole
also donates proceeds from the sales of their shirts to P.E.T.A, UNICEF and this month to breast cancer awareness with The Silly Wagon. So buy a shirt and help a good cause.
Before you go, I just wanted to show you a few more cute shirts.
Are you still here? Go
shop
!