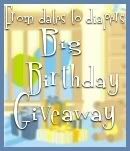 From Dates to Diapers
is having a Birthday Party and you are invited! I'm ready to play some games and have some good food.
Birthday Party (day one)
For my 16th birthday, I helped my friend plan my own surprise party. I know sounds awful but she needed some help with the details. She later told me she was feeling sick and needed to cancel the party. I was sad but agreed. Then later on the next day my Aunt was talking on the phone to someone and mentioned she had to go to my birthday party. I asked her what birthday party? She said your 16th party this Friday. She totally told me about my party. I had really thought it was canceled but my friend was just trying to make it a surprise after all. Even though I knew about the party, it was still fun to let people think I didn't know about it.
Party Games (day two)
Some of my favorite party games as a kid where
Pin the Tail on the Donkey
Twister
Tag/Freeze Tag
Crafts - not technically a game but a party activity
Party Food (day 3)
The best part of any party is the food. My favorites for any party are
Cake - birthday cake is wonderful
Chex mix
BBQ wienies
Veggies and Dip
Nachos
Birthday Cake (day 4)
My favorite cake is German Chocolate. I think this is the kind I always ask for on my birthday. When I was younger my Aunt made me a cake in the shape of a pencil. It was the coolest cake. Maybe I can find a picture and post it. Not sure if that is possible because the photos are very disorganized right now.
Birthday Traditions (day 5) Happy Birthday Today!
On my birthday every year we got to choose what we wanted for dinner. I also got to have a friend or two spend the night the weekend of my birthday. I'm sure there were other things my parents did to make my day special but I can't think of them right now.
As an adult, I get to pick a restaurant that I want to go to for my birthday. This year I chose Red Robin. I love that place and for your birthday you get a free burger and sundae (if you
sign up for the birthday club
)
Celebrate (day 6)
For birthdays, I usually just celebrate with close family. Mom, dad, brother, nieces, and sometimes my aunt and uncle. We usually just go for pizza or a burger at a restaurant.
Mingle (day 7)
What's are party without meeting some new friends. I am sitting next to
Darcy's Knotty Knitter
and
sassyfrazz
in Mr. Linky. Let's go mingle.
Thanks for the wonderful party and gifts. I hope everyone had as much fun as I did.